Le sous-comité technique de normalisation ISO/IEC JTC 1/SC 42 dédié à l'intelligence artificielle (IA) s'est réuni à Dublin lors de sa troisième réunion plénière du 8 au 12 avril 2019. A cette occasion, un nouveau groupe de travail SC 42/WG 5 a été créé pour préparer le projet « Overview of computational approaches for AI systems ». C'est également lors de cette réunion que le projet « Overview of ethical and societal concerns» a été initié au sein du SC 42/WG 3, groupe de travail en charge des projets liés à la fiabilité de l'IA.
Les membres du sous-comité technique ont par ailleurs apporté leurs contributions aux projets suivants :
ISO/IEC 22989 « AI — Concepts and terminology » : proposition d'une définition commune sur le terme « intelligence artificielle », en remplacement des cinq définitions à l'étude jusqu'à présent ;
ISO/IEC 23894 « AI – Risk management » : intégration des commentaires issus du vote NP (New Proposal) auxquels le Luxembourg a contribué ;
ISO/IEC 20547-3 « Big data reference architecture — Part 3: Reference architecture » : présentation du projet de norme revu suite aux commentaires émis et décision de soumettre le projet au vote DIS (Draft International Standard) ;
ISO/IEC 24028 « AI — Overview of trustworthiness in AI » : évolution du projet et décision de le soumettre au vote DTR (Draft Technical Report). Le comité d'étude national (NMC) a apporté une contribution notable pour le développement de ce projet qui pourrait devenir la première norme spécifique à l'IA ;
Proposition du nouveau projet de travail ISO/IEC 24300 « Process Management Framework for big data analytics » dont le vote NP est actuellement en cours ;
Elaboration du contenu des autres projets.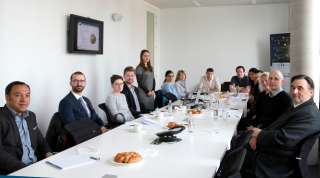 L'avancement de ces différents projets a été présenté aux acteurs nationaux lors d'une réunion d'information organisée le 7 mai 2019 par l'ILNAS et l'ANEC GIE. Lors de cette réunion, ils ont pu échanger sur les différents projets présentés et exprimer leur volonté de contribuer à leur avancement. La publication de ces projets devrait voir le jour en 2020-2021.
Afin de promouvoir la normalisation au Luxembourg, l'ILNAS offre aux acteurs nationaux une participation gratuite aux comités techniques de normalisation. L'inscription à ces comités techniques permet notamment de participer activement à la création des normes et d'en suivre les développements pour anticiper les exigences futures dans leurs domaines respectifs. Le comité d'étude nationale relatif à l'Intelligence Artificielle compte actuellement 23 délégués et contribue principalement aux projets liés à la fiabilité de l'IA .
Si vous souhaitez obtenir davantage d'informations sur les normes en développement ou sur le processus de normalisation, vous pouvez directement nous contacter à l'adresse anec@ilnas.etat.lu.
Source: https://portail-qualite.public.lu/fr/actualites/normes-normalisation/2019/participation-reunion-pleniere-jtc1-sc42-intelligence-artificielle-suivi-national.html
City: Luxembourg